09 February 2011
Our Templates Don't Make Conflicts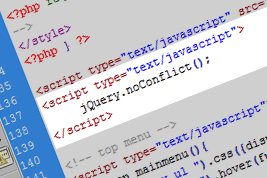 jQuery is powerful javascript library. Almost all of our extensions are based on that library (Top Menu, HOT Image Slider, HOT Newsflash, HOT Joomla Gallery, HOT Joomla Carousel, Lightbox, Font resizer, more are coming...). However, many Joomla extensions from other providers use other libraries (mooTools or prototype).
Using them together on a page will probably make conflicts. As a result, some or all of your extensions would not work.
However, we have found a solution. Our Joomla extensions use "jQuery noConflict mode". Therefore, with our templates, beside our extensions, you can also use other extensions from other providers based on other libraries.
Latest

Interviews

Podolski: We're contenders for gold
Any player whose presence at the first training session of a new season prompts a turn-out in excess.
Read more ...

Ronaldo: Don't count us out
On the eve of his country's South Africa 2010 bow, Portugal's captain is quietly confident.
Read more ...

Drogba: I'm afraid of nothing
His country's captain and primary source of goals, Didier Drogba has already won his first battle.
Read more ...