22 January 2011
HOT Lightbox - Joomla Slide Show Module
Joomla slide show of images located anywhere on your server
We sell this module for $9.95. With this template, you get it FREE!
Hot Lightbox module allows you to include series of images from any directory with images on your server. This module automatically creates thumbnails from your images, as per given parameters. All you need to do is to select a directory with your images. If you install this template using HotStart method, our Hot Lightbox module ($9.95 value) will be installed as well.
Upload images for Gallery in a folder on your server (using Joomla Media Manager or FTP). Make sure the folder is writable.
Go to module manager and click HOT Lightbox. Publish the module on any module position of your template and set module parameters per your preference.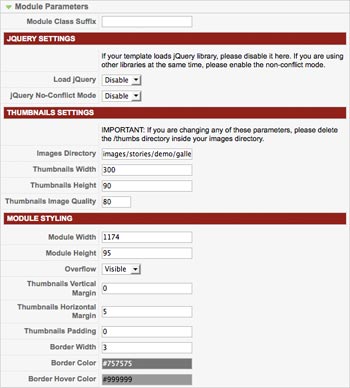 Hot Lightbox module will do the rest for you. What actually it does?
The module utomatically creates thumbnail images and save them in /thumbs subdirectory of your directory with images. You select the thumbnail images width and height in the module propertie. Also, you can select quality of the thumbnail images. The module will also create a Lightbox slide show. Click on any thumbnail image will open a larger image in the Lightbox pop-up. User can browse images (prev/next) in the pop-up while the rest of the website area will be faded out. Click on any point outside of the Lightbox slide show will bring the website back.
An Example
The row with thumbnail images located above is created by Hot Lightbox. In this example, we used module width value of 1000px and height value of 95px. The thumbnail images height is set to 90px, with gray color border of 3px. The thumbnail quality is set to 80. You can change any of these parameters easily!
Latest

Interviews

Podolski: We're contenders for gold
Any player whose presence at the first training session of a new season prompts a turn-out in excess.
Read more ...

Ronaldo: Don't count us out
On the eve of his country's South Africa 2010 bow, Portugal's captain is quietly confident.
Read more ...

Drogba: I'm afraid of nothing
His country's captain and primary source of goals, Didier Drogba has already won his first battle.
Read more ...