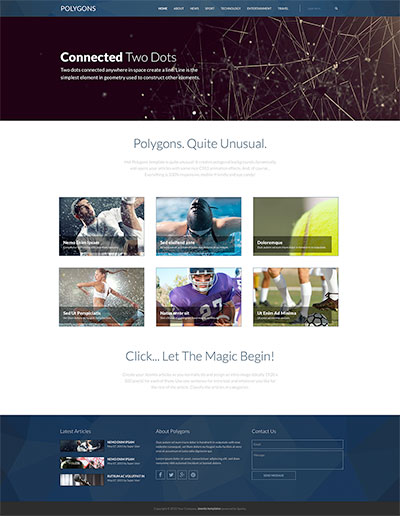 Hot Polygons template is quite unusual! It creates polygonal backgrounds dynamically and opens your articles with some nice CSS3 animation effects. And, of course... Everything is 100% responsive, mobile-friendly and eye candy!
Create your Joomla articles as you normally do and assign an intro image (ideally 1920 x 500 pixels) for each of them. Use one sentence for intro text and whatever you like for the rest of the article. Classify the articles in categories.
Responsive template, based on clean HTML5/CSS3 code, and powered by Sparky Framework 2.0 for Joomla.
5 pre-defined color styles. All colors are easily customizable from the Sparky options (infinite color options).
Customization of the template's layout and adding/removing module positions is easy. It's powered by Sparky's drag and drop Layout Editor. Change layout and element's dimensions easily whenever you need.
We included several responsive Joomla modules with this template. Two of them are new releases: Hot Swipe Carousel (new), Hot Slicebox, Hot Responsive Lightbox and Hot Maps module. Also, free Rapid Contact module (not our product) is installed and styled for use with this template. All these modules are included with this template without additional fees (you save $15 per commercial module). They are styled and configured for this template.
HotStart (SQL dump) available with both single purchase or membership plan. It copies template with all extensions and demo pages easily.
Unlimited number of module positions can be added easily within Layout Editor of Sparky Framework, if needed.
PSD source file and fonts are included.
Total control of all menus through the framework. You can set functionalities and style of all your menus and drop them directly into the layout. Top menu with drop-down sub-levels is included. The top menu converts to a button for easier navigation on the mobile devices.
This template is tested with Firefox, Chrome, Safari, Opera and IE9+ browser. It's also tested on iOS and Android mobile devices.
Support for RTL (right-to-left) languages.
Tips For Using This Template
As you can see on our demo, this template opens articles without loading the separate article pages. After click on any article image, an overlay mode will be opened followed by a fancy HTML5 animation. The full article image and text will be displayed here. After the content, you can see a permanent link to the article.
When creating your own articles, please follow these rules to be sure they will look as our demo articles:
Don't use too long text for intro text (this is text before "Read More tag). It should be only one sentence there.
Add featured image for each article. When you edit article, switch to "Images and links" tab and for "Intro image" select an image. It's recommended to use images in resolution 1920x500px.
If you don't select an intro image for any article, default image will be used. It's located in images/default.jpg. If you want to change default image, change this image (resolution is 1920x500px).