09 February 2011
Flexible Widths
You can define overall template width as well as widths of the left hand side and the right hand side columns with modules. All of this is done very easily in the template configuration. Main content area will be calculated to fit best between the left hand side and the right hand side column, no matter what values you entered for them. Also, if you don't have left or right modules published on certain pages, main content area will occupy their space.
The left column, the right column and the main content area can switch their places. You have can have any of these combination:
Left-Main-Right
Left-Right-Main
Main-Left-Right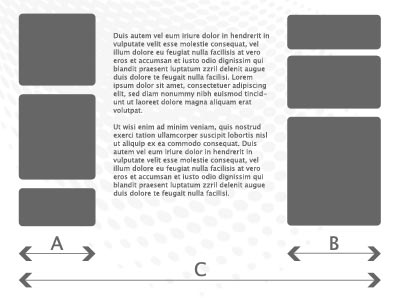 09 February 2011
Our Templates Don't Make Conflicts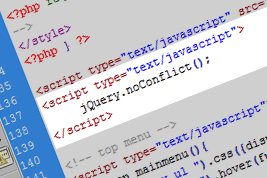 jQuery is powerful javascript library. Almost all of our extensions are based on that library (Top Menu, HOT Image Slider, HOT Newsflash, HOT Joomla Gallery, HOT Joomla Carousel, Lightbox, Font resizer, more are coming...). However, many Joomla extensions from other providers use other libraries (mooTools or prototype).
Using them together on a page will probably make conflicts. As a result, some or all of your extensions would not work.
However, we have found a solution. Our Joomla extensions use "jQuery noConflict mode". Therefore, with our templates, beside our extensions, you can also use other extensions from other providers based on other libraries.
18 January 2011
Unlimited Color Schemes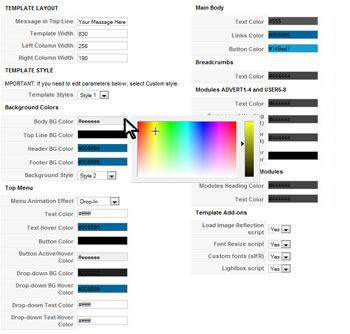 Unlimited color options! Select your own colors. This is useful if you want to match main template color with your company logo.
Five pre-defined styles available. There are three variants of top background image (home page). Whatever color you select for themain template color, all background images will be updated accordingly.
With our templates, you don't need to edit images in Photoshop.
To get to the parameters in your Joomla Admin go to: Extensions > Template Manager and select HOT Restaurant. There you can select colors and background images. The template colors can be selected from handy palette tool or entered manually in hexadecimal format (combination of 6 letters and numbers). If you don't have Photoshop, Fireworks or similar application, Color Combos can help you to find out the hexadecimal code of your color.
Change few options in template parameters and... Boom! You got template with completely new experience!
09 February 2011
Hot Sportal Template Features
Hot Sportal template Joomla sports template, together with Joomla and several Joomla extensions from the template package, is a perfect combination for your Sport news portal, or any other kind of Joomla news portal. Hot Joomla Carousel Pro will make some of your news articles stand out as the most important on the home page. New Hot Scroller module will allow you to make a Joomla news ticker for the latest news. Another new extension, Hot Lightbox module, allows you to create slide shows in minutes.
18 January 2011
Module Positions
This template has support for 22 module positions. All module positions are collapsible. If no modules are published on some module positions, those module positions will automatically collapse.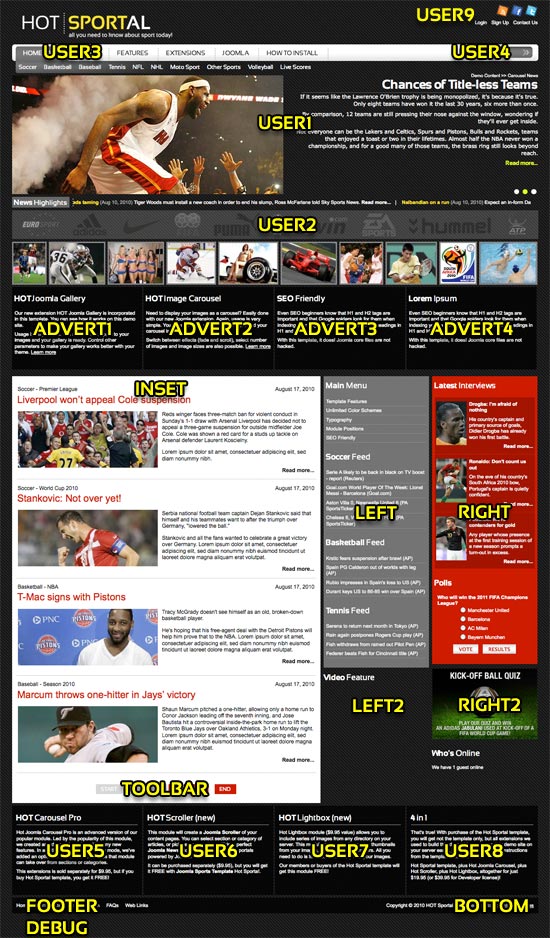 Latest

Interviews

Podolski: We're contenders for gold
Any player whose presence at the first training session of a new season prompts a turn-out in excess.
Read more ...

Ronaldo: Don't count us out
On the eve of his country's South Africa 2010 bow, Portugal's captain is quietly confident.
Read more ...

Drogba: I'm afraid of nothing
His country's captain and primary source of goals, Didier Drogba has already won his first battle.
Read more ...