Hot Menu
Details

Super User
Wednesday, 22 June 2011 09:30
---
This template has a jQuery based top menu with nested sub-menus. Sub-menu opens with a nice animation effect. You can select one of nine available animation effects in template parameters. Core Joomla files are not hacked. Module position User3 is reserved for the top menu. Please type "nav" in Menu Tag ID. Menu type should be set to "list".
Available animation effects:
Blind
Bounce
Clip
Drop
Explode
Fade
Fold
Highlight
Slide
No effect
The vertical menu placed to the left side column here is a classic static Joomla menu with support for sub-menu items. You don't have to change default menu parameters for this menu. Menu type should be set to "list". You don't need to type anything in Menu Tag ID, Menu Class Suffix or Module Class Suffix fields.
This information is not important if you are installing template using our HOT Start package. In this case, all parameters are set.
Template Features
Details

Super User
Wednesday, 22 June 2011 09:29
---
Long-awaited time of the holiday season has arrived. We know, all travel agencies are very busy now. Their phones are red-hot!
Hot Destinations Joomla travel template is perfect for travel agency websites. As its name implies, it puts the spotlight on destinations that clients may be insterested to visit. They are displayed in different ways. The most attractive ones are in Hot Designation module. The Last Minute offers are in Hot Scroller module. Beside several custom modules with interesting locations and lists of the places to visit, the template also includes Hot Maps module that shows Google maps of selected location. Three commercial modules (value $29.85) are included in template price! As you can see, you can include some interesting photos as slideshow in background.
Unlimited Color Schemes
Details

Super User
Wednesday, 22 June 2011 09:29
---
Unlimited color options! Select your own colors. This is useful if you want to match main template color with your company logo.
Four pre-defined styles available. There are three variants of top background image (home page). Whatever color you select for themain template color, all background images will be updated accordingly.
With our templates, you don't need to edit images in Photoshop.
To get to the parameters in your Joomla Admin go to: Extensions > Template Manager and select HOT Restaurant. There you can select colors and background images. The template colors can be selected from handy palette tool or entered manually in hexadecimal format (combination of 6 letters and numbers). If you don't have Photoshop, Fireworks or similar application, Color Combos can help you to find out the hexadecimal code of your color.
Change few options in template parameters and... Boom! You got template with completely new experience!
Module Positions
Details

Super User
Wednesday, 22 June 2011 09:29
---
This template has support for 35 module positions. All module positions are collapsible. If no modules are published on some module positions, those module positions will automatically collapse.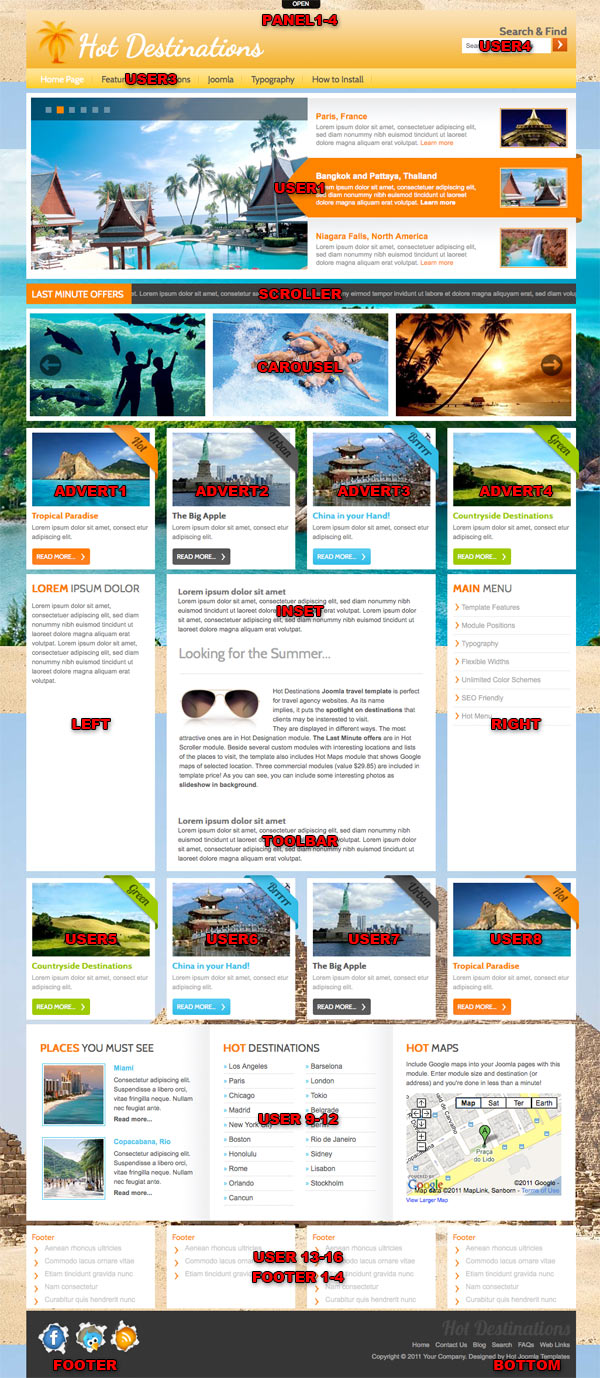 Flexible Widths
Details

Super User
Tuesday, 19 April 2011 08:27
---
You can define overall template width as well as widths of the left hand side and the right hand side columns with modules. All of this is done very easily in the template configuration. Main content area will be calculated to fit best between the left hand side and the right hand side column, no matter what values you entered for them. Also, if you don't have left or right modules published on certain pages, main content area will occupy their space.
The left column, the right column and the main content area can switch their places. You have can have any of these combination:
Left-Main-Right
Left-Right-Main
Main-Left-Right