Our Templates Don't Make Conflicts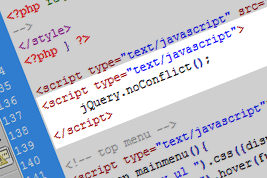 jQuery is powerful javascript library. Almost all of our extensions are based on that library (Top Menu, HOT Image Slider, HOT Newsflash, HOT Joomla Gallery, HOT Joomla Carousel, Lightbox, Font resizer, more are coming...). However, many Joomla extensions from other providers use other libraries (mooTools or prototype).
Using them together on a page will probably make conflicts. As a result, some or all of your extensions would not work.
However, we have found a solution. Our Joomla extensions use "jQuery noConflict mode". Therefore, with our templates, beside our extensions, you can also use other extensions from other providers based on other javascript libraries.
CSS3

Powered

This template uses modern CSS3 techniques, such as rounded borders and gradient colors, with IE compatibility maintained. ALL colors (including gradients) are customizable in parameters.
HOT

Mega Menu

This menu system makes popular "Mega Menu" from your ordinary Joomla menu. You can show three level of menu items at once. This saves space and helps you to organize navigation better. Also, you can put modules in the drop-down panes of the Hot Mega Menu.